---



Back inside, we meet Øyvind Leonsen at Accurate Armour's table.






---


"What're you lookin' at? You startin' somethin'?" Don Campbell and the Total Tank team prepare for Herbert Ackermans' arrival.



---

Hola! On the mezzanine I meet up with I meet up with Joaquin Garcia Gazquez of Alméria, Spain; better known to Beatles fans as the place where How I Won The War was filmed and "Strawberry Fields Forever" was written.



---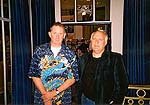 At 6'1" tall and with a taste in shirts rarely seen outisde of the average Miami nightclub, Mirko Bayerl is hard to miss. Bruce Crosby recoils in genteel chagrin after a vulgar comment I've just made about a young lady's posterior.



---




And now, downstairs to action central where we find Jari Lievonen in the competition room.





---


Getting the formality of a quick introduction for two guys who've never met before this moment out of the way, I save film by capturing Toni Canfora (left) and Rob Plas in the same photo.


---

Yann Jouault: "T'as bien capturé la forme féminin dans ton vignette FAMO rouillé."
J-B Verlhac: "Oui, merci - ça prends des longues heures de recherche, ça."



---

Sunday morning, and the Swedish contingent assembles on the balcony of Mirko and Gunnar's room. No, you're not imagining things; Mirko's wearing an AMPS East 2001 shirt. He eventually put a Hawaiian shirt over it to tone things down a little.



---


Unfortunately, Luciano Rodriguez and MiG discover that they know the "here, pull my finger" joke in Sweden too. Jorge Lopez and Ulf Andersson observe.



---

Nothing bridges language barriers like a discussion about paint chipping: (l-r, facing camera) Ulf Andersson, Mirko Bayerl, Gunnar Jansson, Magnus Henricsson, and Erik "LMF" Gustavsson.



---
...Previous page | Next page...