Euromilitaire 2001
Photos and smartass commentary by Darren C. Gawle, esq.


Click on thumbnails for larger images, obviously
---


Folkestone: the English Channel at dawn on Saturday, fresh air, Swallows swooping in the cool breeze... hangover... makes me wanna puke...




---

After wandering Folkestone and finding the only breakfast options are McDonald's and the fry-up of doom back at the South Cliff Hotel, I choose the latter. The fried bread soaks up the remainder of last night's beer rather handily, and I'm ready to face the lineup outside the hall. See if you can spot Rob Plas and J.W. de Boer!



---


Calvin Tan (on the left) and Mark Hazzard (not on the left). If Calvin Tan's name doesn't sound familiar, his 120mm Vietnam LRRP figure which appeared on the cover of Military Modelling should be.






---


Into Leas Cliff Hall, we head straight for the Accurate Armour table and meet up with Mr. Derek Hansen, proudly displaying AA's forthcoming Centurion Mk. 3/1, Mk. 5/1, and Mk.13 w/dozer blade kits; and in-progress masters for the M103 heavy tank and Egyptian T-34/100 tank destroyer. All under suitably drool-resistant glass, naturally.




---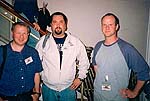 Upstairs to the KMK clustand to drop off a load of Missing Links name badges, lo and behold it's Pekka Nieminen on the left and Bob Gregory in the middle. And me on the right, after having just spilled beer down the front of my shirt... more on this in a minute.



---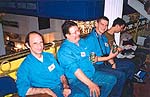 Leo Reynders, François Govaerts, and Gert Mertens of Belgian modelling club KMK, whose clubstand turned out to be the unofficial biergarten at Euro 2001. They packed enough of a beer called Palm to ensure a constant stream of well-wishers past the clubstand all weekend. (Insert 'date with the Palm sisters' joke here).


---
Back downstairs and out the back door we run into Jan-Willem de Boer, Gilles Peiffer, and Yann Jouault. Yann and Xavier Lena were gracious enough to drive me back to my accomodations in Dover the night before, although Xavier's comment "I have confession that I only drive 100 meters in zis country up to now" gave cause for concern.



---

Tamiya Modelling Magazine International's Marcus Nicholls kibbitzes briefly before resuming his weekend-long mission to photograph Ken Jones in a compromising position.



---


Bruce Crosby (right) tries to interest Don Campbell in an article for AFV Modeller on his love of the Trumpeter series of T-54/55 kits, but Don's having none of it.




---


Rudi Meir (left) and Marijn van Gils (right) discussing options for lunch. Kentucky Fried Chicken? Mmmmm... coronary...



---
Next page...