Towards late 1967, a producer from the Canadian Broadcasting Corporation approached The Loyalists with an invitation to appear on an experimental late-night television show Enterprise, which had garnered a reputation for some extremely outré programming for the times; a two-hour interview with British zen philosopher Alan Watts, interperative calligraphy by Paul Wong set to the folk-blues music of Jim Johnson, local painter Jack Wise dripping concentric circles of paint onto glass and then smashing the piece while the camera shot upwards into the cascading shards.
The idea was for The Loyalists to play live to a studio audience of their peers, and also engage in some informal chatting amongst themselves which would be filmed: "We were really keen on it and I thought we played quite well. I was unhappy with the talking part of it because being shy, I didn't say anything for quite a while. And then I did start talking - when I listen to it now it sounds kind of silly, the things we were saying, but then you have to remember we were just a bunch of 18-19 year olds," remembers Jeff, "I didn't really consider at the time how much of an honour it was to have been on that show, because in other episodes they did bits on people like Alan Watts."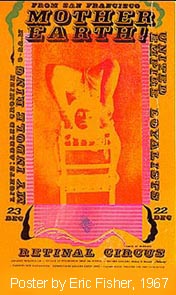 The band were then treated to some post-production psychedelic video effects, which by today's standards were nightmarishly primitive. Rick: " they'd feed one camera monitor into another camera and double-expose it, then move it around so you'd get these limitless repeated images. It was pretty far out for those days."
Indeed, the pace of The Loyalists' career quickened in 1968, and unfortunately for some unhappy reasons. In the summer of 1967, their manager Jerry Kruz was busted for a second time for possession of marijuana, and Kruz spent some time in jail for this comparatively minor offence. Although it wasn't a long period of time, it was enough for the city to revoke Kruz's business license, and as a result, The Afterthought was no more.
The Loyalists were picked up by another manager by the name of Ted Rowbotham who was based out of Victoria, and the band began to find themselves playing an increasing number of out-of-town gigs in places like Gibsons, Nanaimo, and Victoria. Local promoter Roger Schiffer also stepped onto the scene at this point, opening the Retinal Circus on Davie St. which provided a new, hip focus for Vancouver's hippies and the new wave of acts from the U.S. such as The Siegel-Schwall Blues Band, Canned Heat, and The Velvet Underground.
Another important region The Loyalists made a road trip to was Edmonton, which had a counterculture scene of its own based around the University of Alberta. Several songs from a gig at Zorba's in Edmonton (where a local band called Willie And The Walkers opened) are featured on Notes From The Underground, and although The United Empire Loyalists were always well-received when they visited Edmonton, getting there wasn't necessarily under such fortuitous circumstances, as Richard Cruickshank remembers:
"Because long hair and psychedelia were linked to drugs in everybody's mind, there was this one time where we were pulled over by the police while we were on our way to Edmonton. Man, it was cold - we were all in the van on top of the amplifiers going through Roger's Pass and there was ice in the van because it was so cold. I was lying on the part of the floor over the exhaust manifold so I could catch some heat. The police pulled us over just outside of Edmonton, and they were really nice guys, actually - here I was just wearing this leather jacket, shoulder-length hair, glasses, 130 pounds skinny with acne and shivering and you could see they felt sorry for us. They asked if they could look through the van, and they were very polite about it, and then they said 'did you know there's an all-points bulletin out on you guys? Somebody reported you're running drugs to Edmonton.'"
Jeff: "I think Rick took some Morning Glory seeds and almost couldn't play the gig! People were taking all kinds of things in those days."
Another memorable occasion for the band was an opening slot for Cream's only Vancouver appearance in June, 1968, at the Pacific Coliseum. The United Empire Loyalists marked the auspicious occasion by performing a new piece with a horn section which was never recorded and is known to posterity as 'The Horn Song' - "we were into the heavy blues scene at the time, stuff like Electric Flag", explains Jeff. The Loyalists 'borrowed' the brass section from a local R&B outfit known as The Spectres, which featured the late Bruce Fairbairn on trumpet, along with Malcolm Brodie and Elliott Clarkson. The truly memorable moment came for the band when they finished their set and descended the stairs from the stage, to find themselves face to face with Ginger Baker, Jack Bruce, and Eric Clapton who were waiting to begin their set.
However, the opening slot for Cream was the high water mark of The Loyalists' short career. Early in 1968, Richard Cruickshank was fired in favour of drummer Ted Lewis (who would later change his name to Duris Maxwell for numerological reasons), who was a heavier hitter than the more laid-back Cruickshank: "I was living away from home for the first time, and they weren't happy with my playing because they thought that with a better drummer they'd get a better sound. I was more of an R&B-style drummer and went out of my way to keep the beat simple - the primitive stylings of Dick Cruickshank! It was really good that that happened in retrospect, though, because then I went to take lessons from Al Weirtz and I eventually became more focused on what I was doing, and became a better drummer. But I remember being really pissed about it at the time!"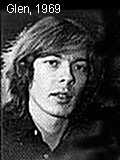 Lewis only lasted for a couple of weeks before he decided that The United Empire Loyalists weren't playing the style of music he wanted to play and abruptly quit the band. Fortunately, The Loyalists found another drummer with a powerful, rhythmic style in a 17-year old by the name of Glen Hendrickson who had, until recently, been playing with The Black Snake Blues Band.
The difference in the Loyalists' sound when comparing the two drummers is remarkable; Notes From the Underground features two different versions of the song 'Looking And Searching'. The earlier version, recorded during the Enterprise session with Cruickshank is a more intricate and ethereal affair than the later 1970 demo with Hendrickson at the skins, which itself is an intense, pulsating example of the nascent 'rock' sound which brought the psychedelic '60s to a close.
Anton Kolstee was the next member to leave the lineup, having received an offer to join Chicago's Seigel-Schwall Blues Band in anticipation of a proposed 'blues symphony' to be arranged by avant-garde composer Seiji Ozawa and performed in conjunction with the San Francisco Symphony Orchestra. However, despite having arranged the necessary immigration paperwork, Anton was turned back at the border because having been born in the Netherlands, he wasn't a naturalized Canadian citizen. Anton was quite upset and discouraged, and upon his return to Vancouver he put his guitar away and went back to university, eventually earning a PhD in ethno-musicology and studying the aboriginal music of the Pacific Northwest.
Jeff Ridley also put the guitar down at this point and went back to school, leaving the Loyalists' rhythm section in search of a new band. Rick and Glenn played briefly with another remarkable Vancouver band, Mock Duck (featuring Joe Mock, later of Pied Pumpkin, on guitar) before giving the United Empire Loyalists another shot late in 1969. Bringing Jeff back into the fold, the Loyalists now performed as a power trio, but they soon found that in the space of year the scene had changed dramatically. Vancouver's two major psychedelic ballrooms, The Afterthought and The Retinal Circus were long gone. Finding the bulk of their gigs now at strip clubs, the re-formed Loyalists lasted little more than a year before Rick Enns decided things just weren't working anymore and left the group for good, effectively ending the story of one of the first truly important bands in Vancouver's musical history.
Next: Jeff and Glen form a new band...


back | continue