In fact, The United Empire Loyalists had already begun to experience the San Francisco sound firsthand with the first visit by The Grateful Dead to Vancouver. The Grateful Dead, Big Brother & The Holding Company (as well as Ken Kesey and the Merry Pranksters) had come up to Vancouver to play the first trips festival at The P.N.E.'s Garden Auditorium in August 1966, (The Jefferson Airplane had already played at the Kitsilano Theatre earlier that January) and Jerry Kruz had invited them to stay the week and play The Afterthought the following Friday night, with the Loyalists opening the show.
However, between the Sunday and the Friday The Dead needed at least one practise; and unbeknownst to Richard's parents who were away on vacation, that practise ended up chez Cruickshank. The one problem lay in the location of the Cruickshank residence being in staid, upper middle-class West Vancouver: "Picture this: nobody'd seen people with hair that long - people with shoulder-length hair. Nobody here had hair that long!" remembers Richard.
Jeff also recalls: "So we all paraded into Dick's parents' place with The Grateful Dead and their hippie entourage and all the neighbours peering out from behind their curtains!"
"This was an upper middle-class neighbourhood of dentists and businessmen and retired people, and nobody could believe this was happening!" continues Richard, "They rehearsed on our equipment, and the neighbours could hear it. They made our equipment sound good too! As a sixteen year-old, you tend to think that you'll sound good when you can afford better gear. But there was not a single problem; the only damage that was caused was by me: I left a cigarette in an ashtray which burned a hole in the top of my parents' stereo cabinet. And all our food went missing - the fridge was empty, but at least it was clean! They were the nicest people as I remember them, really sweet guys. Very good people." Naturally, after the practise extended well into the evening and eventually turned into a party, a neighbour did call the police and shut the festivities down.
Jeff also recalls that this wasn't the last time The Dead would butt heads with local law-enforcement, even during their first visit to Vancouver: "They wanted to do some publicity for the gig they were playing that night so they were driving around Vancouver and saw the bandstand at English Bay. Without getting any permission, they decided they'd play there; they set up and were promptly shut down by the police. Everywhere they went they got shut down! Another time they were planning on playing Kits Beach on a flatbed truck which was all set up for that and we opened up. But by the time we finished out set the cops had already arrived and shut the whole thing down and again they didn't play."
They were exciting times, but by early autumn if the Loyalists wanted to fully explore the new world of sound they'd been introduced to, they needed a more stable lineup. John Lome had a rough voice and also played the blues harp, but he also wasn't a very good guitar player; nor did he seem to be interested in a band who leaned very heavily on their repertoire of Rolling Stones covers.
At about the same time, Rick Enns was cooling his heels at home after having spent the summer of a lifetime in San Francisco in residence with The Tom Northcott Trio at The Matrix club. "After Tom Northcott broke up the trio and he went back down to L.A. to record with Lenny Waronker and Leon Russell at Warner, I was sitting around the house for about a month not really doing anything" says Rick, "I mean, I'd had this fantastic time in San Francisco being this semi-rock star from the North, and now I was supposed to go back to grade 12? So there I was into October not doing anything, and my councilor was constantly phoning me up saying 'Rick, just come back - just make an appearance and we'll pass you! Just show up, you don't even have to do anything!'"
Anton knew Rick from around the scene, even from before The Tom Northcott Trio's sojourn in San Francisco, and invited him to join The United Empire Loyalists. Rick accepted the offer, and began rehearsing the group at his mother's place on West 10th Avenue towards the end of 1966. The setup was a little odd for anyone who knew Rick as a musician, because although he was a good singer - perhaps not quite as rough as The Loyalists may have been looking for - he was principally a bassist, a situation which also cast a shadow over Bruce Dowd's future with The Loyalists. "We invited Rick to join the band, ostensibly as the vocalist, but everybody knew he played bass well and it would be a matter of time before he became our bassist too" explains Jeff. Bruce could indeed see the writing on the wall and voluntarily left the group a short period after Rick joined.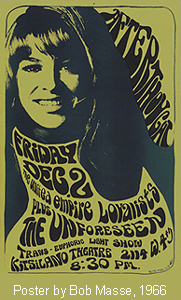 Rick had a strong background in jazz and the folk scene which had dominated Robson Street in the early 1960s, and even though he was about the same age as the other Loyalists, he'd already been writing songs for a number of years. One of the first pieces he brought to the band was a subdued minor-key number with a swing beat called 'It's Alright', a version of which appears on Notes From the Underground. The band also rehearsed 'No No No', which Anton had learned from Jerry Garcia during The Grateful Dead's visit that summer.
But with the support of Rick's mother, the band more importantly had a place to practise at great length, the fruits of which soon became apparent. "We started jamming a lot" remembers Jeff, "the first thing we'd do when we got into Rick's basement to practise would always be a jam, and from that ideas for songs would come."
Rick: "That's really where a lot of our songs and ideas came together; I'd write some piece that didn't have a middle eight, and Anton would come in with a middle eight that had no verse. And we'd go over and over and over this piece until someone would come up with an ending."
Richard: "I was more involved in the periphery of the songwriting - they usually let me name the songs. I named one song 'Buffalo Wilkie' (also on Notes from the Underground) because we had a lot of draft dodger friends from the States, and one of them was named Dave Wilkie. He used to wear this buckskin jacket with the tassles hanging off of the sleeves, which is where the 'Buffalo' part came from."
Live, The Loyalists' extended jamming on stage would sometimes carry on for more than half an hour. The concept was one fairly common to groups like The Grateful Dead, Cream, and The Quicksilver Messenger Service, and was centered around the modal jazz of Miles Davis and John Coltrane which had appeared in the late 1950s on such seminal albums as Kind Of Blue. A major evolutionary step in music theory, now a solo could be played not in relation to a series of chord changes which repeated themselves ad nauseam, but in relation to the modal key that the piece was written in: "I had this particular thing, being the rhythm guitarist, for playing three-note triads all over the neck and I was able to work in all sorts of different triads in one key" notes Jeff, "Like in A minor I'd work in B flats and Fs and Bs and everything that fit to come up with this little language whilst Anton would be soloing in A minor. Strictly modal - changing chords was too much of a straightjacket thing!"
"What we liked to do quite a bit while we were jamming would be to change the feel of the song as we were going along" recalls Rick, "and the beauty of that was that was when we used to do soundchecks, we'd load in at about four in the afternoon and we'd start playing. Someone would come up with something, like Jeff just noodling on his guitar, and everybody would pick it up with whatever they thought would go with it. Then it would kind of evolve, like Richard going into triplets and giving it a kind of swing, and then we'd throw in extra chords. Then what the staff of the club would do to us was come up to us in the middle of this and tell us to stop because it was seven and they were about to open the doors - we'd have been playing for three hours non-stop!"
"Plus, being stoned made time take on different qualities and it didn't matter that a song was 10 minutes long. You just didn't notice!" Jeff adds.
There were also more conscious attempts to broaden the range of musical experimentation with the group; Rick was (and still is) a big fan of Igor Stravinsky, especially the 'round' section of the fourth movement of his Rites Of Spring. Rick wanted to try and incorporate this into a song they were working on which eventually became 'Buffalo Wilkie', eventually leading the group upstairs to the living room, where they sat around the turntable figuring out the movement and playing it along to the record over and over again.
The United Empire Loyalists' new lineup tightened up quickly, and in late 1966 booked time at Robin Spurgin's studio on Broadway in Vancouver's Kitsilano district, which was the place to record in Vancouver at the time. "Robin had this leading edge setup with two track recording!" quips Richard, "anyways The Collectors (who evolved later in 1971 into Chilliwack - DG.) were there listening to us record 'No No No' and you could see that they were thinking it was pretty good that we did it right in about one take, especially as we were such young guys about 16 or 17."
In February of 1967, Country Joe & the Fish made their first visit to Vancouver and opened a new chapter in the affairs of The United Empire Loyalists. The Loyalists opened the third night of Country Joe's residence (after Martha Mushroom's Fantastic Sensations (!) and The Painted Ship had opened the previous two), and the visiting Berkeley band was obviously impressed with the young Canadians with whom they shared a similar musical mindset - when they returned the following month, The Loyalists opened all three nights.
Local legend has it that Country Joe was, at one point, considering The Loyalists as possible replacements for The Fish, as Rick explains: "I think there were some problems with the members of the band, like some of them were expecting to get drafted into the Army, and others were thinking of moving on to other things. Like Chicken Hirsch (their drummer) was looking at going to Chicago and teaching at the University of Illinois because he was a professor, and it looked like Joe was going to be left with no band."
Certainly Joe McDonald took the time to acquaint the four Loyalists with some of The Fish's repertoire, as a piece given the succinct title of 'Otis' was added to the setlist. According to Rick, it was "something he'd heard in San Francisco when The Fish opened up for Otis one time as an intro while the emcee was going 'ladies and gentlemen - Otis Redding!' So that was one of the songs he was trying to teach us if we were to be his new lineup, but as you know The Fish kept going." (n.b. for those interested in comparing the two, the song which The Loyalists learned as 'Otis' was also added to The Fish setlist under the name 'Rock And Soul Music'.)
Next: The Loyaists hit career highs with a TV appearance, an opening slot for Cream, and shows out of town - but all good things must come to an end...


back | continue